Main article: Terracottage
The Terracottage is a mobile house in which an adventurer can furnish, handle professions, socialize, and more. Access to the interior (by pressing H) is unlocked upon completion of the quest Lv21. Miners, not Minors!.
The Terracottage consists of three rooms: the Main Hall, Greenhouse and Workshop. In each room, players can perform various task and handle professions, such as cooking, crafting, alchemy and more.
In addition to having other players visit, Senshi can also be present in the Terracottage. The Senshi can be placed in various locations in all three rooms. The player can talk to the Senshi in order to trigger optional Senshi quests. These quests increase the bond between the player and the Senshi, which allows the player to upgrade the Senshi. For further information, see the Quests section of the beginner's guide.
Main Hall
Edit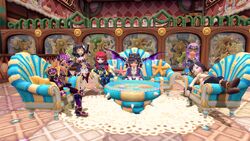 The Main Hall is a wide-open space where players can customize with furniture and decorations. To learn how to decorate, speak with Alfred on this floor, or read Decorating the Main Hall below.
In the Main Hall there is also a Community Chest that allows the player and their visitors to open to collect rewards. With more guests present and opening the chest, more rewards will be received by the owner. There is a maximum of 15 people allowed to open a chest.
Greenhouse
Edit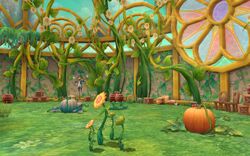 The Greenhouse, located in the top of the Terracottage, allows players to cultivate and harvest materials necessary for various professions such as crafting. The Farming and Cooking professions are available here. Farming can be done in the mounds of fertile soil, while Cooking can be done in the kitchen.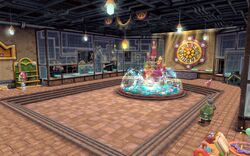 The Workshop is the heart of the Terracottage and the place where players can craft and create outfits, equipment, potions, Starstones, and furniture. On the walls, players can see holographic projections of various bosses of the world. Crafting and Alchemy professions are available here, and can be performed at the Crafting Table and Alchemist's Workbench respectively.
Decorating the Main Hall
Edit
Ad blocker interference detected!
Wikia is a free-to-use site that makes money from advertising. We have a modified experience for viewers using ad blockers

Wikia is not accessible if you've made further modifications. Remove the custom ad blocker rule(s) and the page will load as expected.